Spice - The All Inclusive Swingers Resort, Lanzarote, Canary Islands, Spain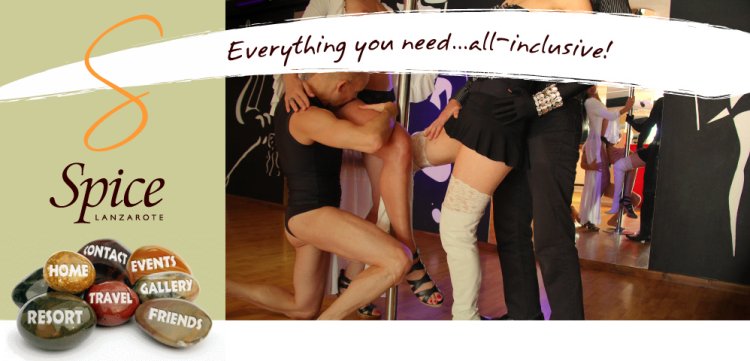 Where better to relax than in the year round sunshine to be found at Europe's premier swingers resort "Spice" in the Canary Islands.
About Spice
Luxury Clothing Optional & Lifestyle Holidays
Spice is Europe's first clothing optional, lifestyle friendly resort - an erotic, fun, friendly, "All Inclusive" paradise for naturists, libertines and genuinely curious couples seeking an alternative holiday.
Located in the Canary Islands, a beautiful archipelago near the West African coast, with sunshine all year round and the lowest rainfall in Europe is a place for all free-thinkers to escape reality, live your dreams and indulge your passions. Have fun meeting new friends in an environment where nudity and sexual energy is embraced.
Imagine an idyllic hideaway with pools and gardens, all completely private and sheltered from the outside world. Imagine relaxing days, fine dining and warm, sensual nights. Here is your chance to indulge all your fantasies, experiment with erotic outfits and satisfy your desires with intimate encounters.
Spice offers a vast array of facilities, services, privacy and freedom for you to explore with your partner. A totally safe haven in which couples can express themselves openly. Pleasure your mind, body and spirit in this totally liberated resort, just 4 hours away from most European destinations.
Spice Style
Indulge the Spice Lifestyle; they have everything you need on-site to relieve the pressures of life, with superior service, friendly staff and that special personal touch.
Relax by the pool, enjoy yoga and massage in the chill-out zones or soak up the sun on the gorgeous sun terrace. As the sun sets, warm up with some fabulous cocktails at the poolside bar or jump in the Jacuzzi with up to 50 good friends! Work up a sweat on the dance floor with the resident DJ and dress to impress for the sexy theme nights.
The Resort
67 white-washed apartments spaced around a spacious pool, gardens and sun terrace. The main pool is situated below ground level, which provides privacy as well as making it a perfect sun-trap and the sun terrace with feature beds is a romantic place to share an intimate moment with your partner.
The pathways around the resort uncover chill out zones, set in lush gardened areas with water feature, hammocks and wind chimes - all beautiful places to relax and unwind.
The outdoor Jacuzzi is purpose built for 50 people, but of course it will take more – it just depends on how close everyone gets! With an integrated bar, sophisticated waterfall and sound system, it's a great space to have fun and really indulge the Spice Lifestyle.
A high level of maintenance is sustained throughout the resort, to present a clean, fresh and luxury environment. The 24-hour reception offers a personal service and can assist you with extras such as Car Hire, Spa Treatments at Bodylicious or Excursions.
The Suites
The suites consist of spacious bedroom, bathroom and dressing room all of which are furnished to a high standard and each has it's own private terrace or balcony for you to enjoy some personal time or to entertain friends.
Each one bedroom suite includes:
Sizeable bedroom with super king size bed and sensual contour body forming support mattress with luxury linen.
Satellite TV with adult channel.
Refrigerator stocked daily with a selection of refreshments.
Tea and coffee making facilities.
Four piece bathroom suite with branded Spice towels.
Dressing room with dressing table, hairdryer, fitted wardrobe and free safety deposit box.
CD/MP3 Player & FREE Wifi.
Branded Spice bathrobes and slippers.
Dining & Nightlife
Wining & Dining
The Allspice restaurant offers a diverse menu, including a wide variety of high-quality, international cuisine and of course, excellent Paella and traditional Spanish tapas.
The poolside bar serves a wide range of top brand drinks, frozen cocktails and late night snacks to keep you going right through the night!
Nightlife
Special theme nights at carry through to the dance floor, where the entertainment team and DJ play a wide variety of music to suit all tastes.
Playroom
This is the most sexually charged area of the resort. For the most liberated couples, who enjoy being with others at a very intimate time. In the Playroom, anything goes!
This area is, of course, covered by the essential principal of Spice: enjoy your freedom but remember "no means no" to ensure all guests can enjoy their time without fear of being compromised.
All Inclusive
No restrictions - no supplements - no surcharges - no hidden extras.
Click here to book your "Spice Lifestyle" swingers holiday